1st Taiwan International Chawan Festival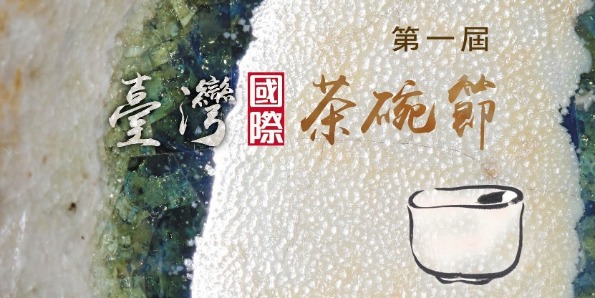 The first Taiwan International Chawan Festival will be held from November 1st to 17th, 2019. Aside from inviting domestic and foreign well-known chawan ceramists to exhibit during the festival, the event will include large-scale exhibition, pottery demonstration, chawan workshops, tea farm tours, potters' studio visits and cultural activities. We will also provide activities for all participants to experience the rich Taiwanese tea culture. This is a great opportunity for ceramists, ceramic lovers, tea lovers, and collectors to build connections with one another.
1st Taiwan International Chawan Festival:
The exhibition will be setting up in four areas and employing the themes of Spring, Summer, Autumn, and Winter, to show the variation of the Taiwanese tea in different times and seasons. We anticipate to invite 50 ceramists from local areas and abroad, a total of 200 pieces of chawan to display, the show will last for 17 days.
This catalogue contains ten Taiwanese Chawan ceramists' works, introducing the forms and glazes of their works. This catalogue will also introduce the spiritual meaning of the Taiwanese tea ceremony in both Chinese and English.
Experts from different field will share the essence of the Taiwanese tea ceremony and our rich Taiwanese culture.
Artists with unique techniques will hold demonstrations, this not only promotes international exchange, but also to bring in new energy into the local community. (we encourage ceramists to recommend lecturers.)
A three-stage training courses will be held before the festival, participants who pass the examines will receive a certificate on the opening day.
There will be totally 100 tea ceremonies during the festival, to promote the use of chawans in Taiwanese tea.

We are more than happy to have chawan ceramists register to show their own unique tea ceremonies during the festival.

Ceramists who registerd to participate in the tea ceremonies are also encouraged to create their own teams which can incorporate music, painting, calligraphy or other professions into the tea ceremony event.
These are open to the public who enjoy making chawans, the workshop will teach how to use pinching technique to create a chawan, this is to promote the concept of using chawans made by yourself. (We welcome ceramists to sign up as teachers.)
Art and Tea Cultural Tour
We will visit museums, ceramic studios and tea farms. (Ceramists are encouraged to open their studios to visitors and display chawans in their studios at the same time.)

INFORMATION REGARDING THE CHAWAN EXHBITION  
Exhibition period: 1st -17th November 2019, 9:00~17:00, closed on Mondays

Exhibition venue: Northern Miaoli Art Center (No.206, Gongyuan Rd., Zhunan Township, Miaoli County 350, Taiwan)